Southport Column: Busy Weeks Ahead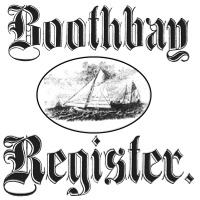 Alert! Due to the forecast for thunderstorms Tuesday and Wednesday, Southport Central School Grounds Day and Graduation Parade and Ice Cream Party are moved to Thursday, June 10, with times remaining the same, in the morning for the field day and graduation parade leaving the school at 5:30 p.m., heading south to Newagen, then east, heading north on Cape Newagen Road. Please plan to greet our graduate, Madisyn Blackman, and her friend, Makayla Abbe, a fifth grader, with cheers and many other celebratory noises.
The next step is the distribution of "Southport Sprouts" by the Southport Island Association (SIA). On Saturday June 12 from 9 a.m. to 11 a.m., SIA will be offering 60 free starter seedling kits to Southporters of all ages. Each kit will contain three vegetables, a marigold and an herb. Morning Dew Farm is the source of seedlings which were cultivated by Brady Hatch, and which supplies them to the SIA at wholesale prices. Two educational staff from Coastal Maine Botanical Gardens (CMBG) will offer advice on planting and cultivation. The kits will be available on the grounds of the Southport school. Sharma Schacknow and Janet Duchaine, members of the SIA Board of Directors, are co-leading this new initiative. To reserve your seedling kit, please call Sharma at 561-876-5151 or email [email protected]; Let's grow!
All Saints by the Sea will open for services starting Sunday, June 20. The first service with Holy Communion will begin at 9:00 a.m. The second service will start at 10:30 am and will include Holy Communion except the fourth Sunday. COVID-19 restrictions will apply. A maximum of 45 worshipers can be seated for each service, requiring pre-registration each week through the chapel's website, www.allsaintssouthport.org. or by calling the chapel phone at 207-633-7301. Please leave a message. There will also be 10 to 12 places for additional people on the porch. Everyone in the chapel must wear masks and there will be no congregational singing, but the organist, Henry Lowe, will provide the music. The Reverend Dr Virginia Sheay will be the celebrant for the first two Sundays. Everyone is welcome.
Mark your calendars for Monday, June 21, starting at 4 p.m. as the date for the annual Friends of the Southport Historical Society meeting to be held on the lawn of the Bruce and Medea Harris Residence, 65 Hendricks Hill Road, Southport . After a short business meeting, our very own Joe Gelarden will talk about the history of the Lawnmere Inn as the popular vacation spot it was in its heyday. Audience members will be invited to share their own experiences with the hostel following Joe's remarks. Next, a lobster trap table created by Gerry Gamage will be drawn at the meeting. Pre-packaged light refreshments will be provided after the program. If rain prevents the meeting on the lawn, the meeting will take place inside Southport Town Hall. For everyone's safety, if the meeting is moved indoors, you are asked to wear a mask that fully covers your nose and mouth, unless you are fully immunized.
Lynn Schafer is home again on Hendrick's Head Road and will be opening her "possibilities" shop most afternoons. Call 633-0788 if you are coming from far away. Everyone is welcome to visit the boutique and to stroll through the gardens. Specialty items include textiles, handmade rugs, unique treasures that make a home a home. Fresh flower bouquets and vases are also available.
The Southport Island School Talent Show last Friday was a delight with young people showcasing talents ranging from singing to acrobatics. I particularly like their final number, which started with a student singing the introduction to the number, but then all the students joined in to complete the song, "We'll be back home," a song particularly apt for our young islanders. . I also loved how the students supported each other so enthusiastically. We are so lucky to have the leadership and the staff that we have in this school.
The Southport Yacht Club (SYC) will be opening its doors this year for the SYC sailing program and events that can take place outdoors. Events will be limited to 150 participants and registration for all events with food and drink will be required. Events where alcohol is served by the club will only be open to those 21 and over. The Senior Club House will be open on weekends. The main SYC platform will be available at all times and the junior program platform will be available after 4:30 PM MF and on weekends. In order to protect our youngest sailors, you are requested not to interact with students in the sailing program or enter buildings during the weekday program (Monday, 8:30 am-4:30pm). Adult members and fully immunized guests are not required to wear a mask or socially distance themselves while at SYC. Unvaccinated members and guests should wear a mask indoors and when a distance of six feet cannot be maintained outdoors.
The Southport General Store had to reduce its hours of operation to the following: Saturday-Tuesday, 7:30 a.m. to 2:30 p.m. Wednesday-Friday, 7:30 a.m. to 5 p.m. The barn opens at 9:30 a.m. daily but closes the same time as the store. This warm weather led many to take advantage of the new picnic tables scattered around the property. A new presence in the store is Arthur Hathaway, the kitchen supervisor who returned to his hometown of Boothbay Harbor after living far away. Welcome home and to the store community, Arthur.
The Ship Ahoy Motel 'for sale' signs are down, so I expect construction to begin soon. No action, however, around Cozy's Harborside. The sign on the door still says "Opening in June", but I think that will depend on whether we can find adequate help.
There's a lot going on and the warm weather even made me put my foot in the ocean. I wonder how long the hot weather will last. Enjoy!